The Helsinki Commission has long supported racial justice in the United States and worldwide through its commitment to champion the tenets of the Helsinki Final Act, which states ". . . for all, without distinction as to race, sex, language or religion."
The commission promotes understanding of critical issues including minority rights, anti-Semitism, discrimination against Roma, and racism through hearings, briefings, events, legislation, and other initiatives. In 2020, the commission launched a series entitled "Human Rights at Home" that gathered the testimony of subject matter experts through public hearings on the current human rights situation in the United States and the U.S. commitment to adhere to its promises as an OSCE participating State.
Helsinki Commission Chairman Rep. Alcee L. Hastings (FL-20) and other commissioners including the OSCE Parliamentary Assembly's Special Representative on Anti-Semitism, Racism, and Intolerance Senator Ben Cardin regularly introduce and support legislation addressing diversity, inclusion, and racial justice issues in the United States and abroad. For example, the National Security Diversity and Inclusion Workforce Act of 2019 requires national security agencies to publicly report diversity and inclusion efforts; the African Descent Affairs Act of 2019 establishes a "U.S. strategy to protect and promote the human rights of people of African descent worldwide;" and the LITE Act strengthens partnerships with U.S. allies, protects democratic institutions, and supports transatlantic leadership.
Through statements, articles, reports, and podcasts, the commission explores and comments on discrimination, intolerance, and racial justice. The commission also enlists and engages with diverse leaders across the OSCE region through initiatives like the Transatlantic Minority Political Leadership Conference (TMPLC) and Transatlantic Inclusion Leaders Network (TILN).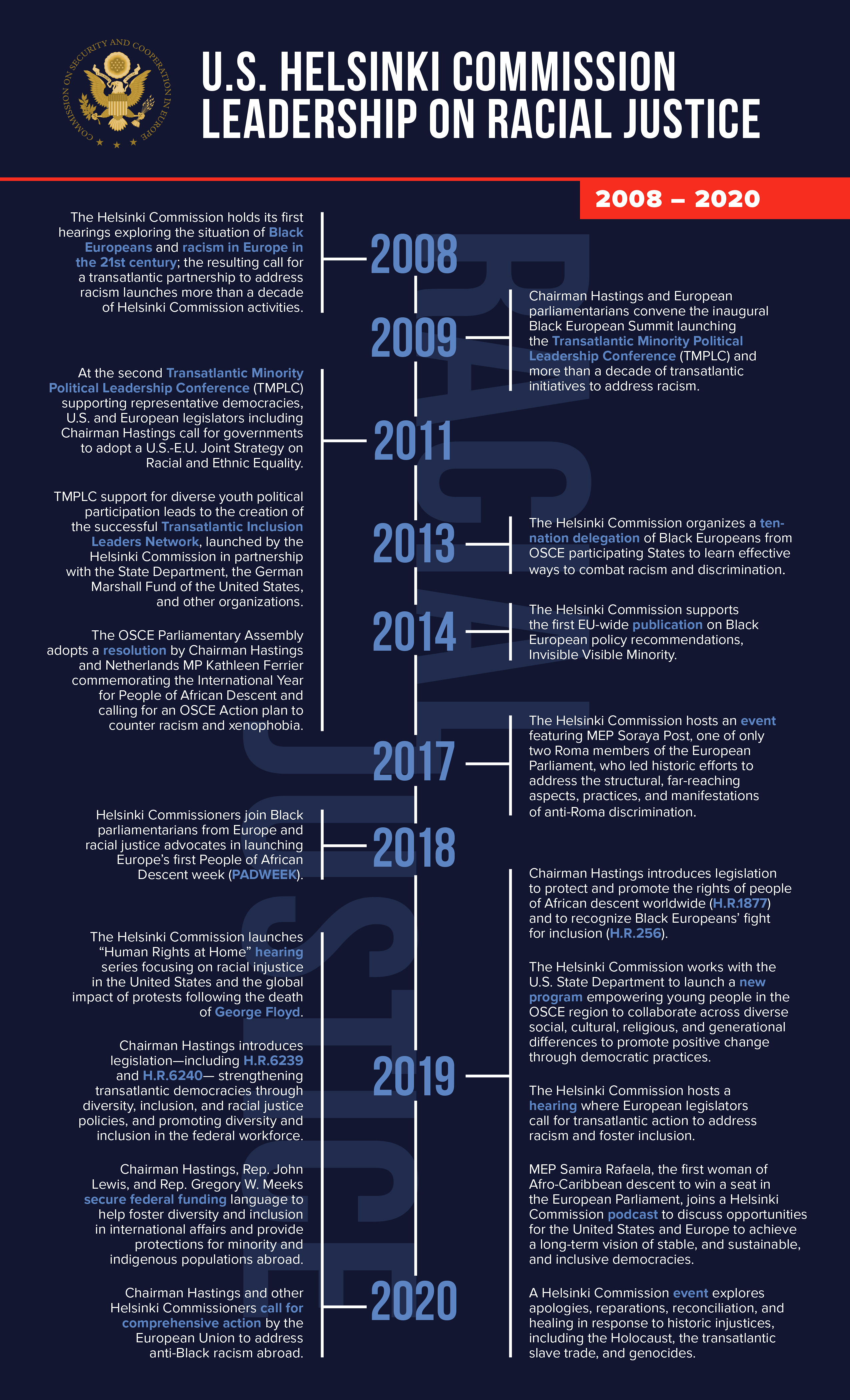 Hearings, Briefings, and Events
Hearings
Briefings
Events
Legislative Initiatives
Articles, Reports, and News
Statements and Speeches
Political Participation and Leadership