By Stacy Hope,
Communications Director
When I checked in to my hotel room in Yerevan, Armenia, on December 6, it smelled faintly—not unpleasantly—of wood smoke. I never did find the source, but to me, the smell of wood smoke in December has always been a harbinger of good things to come. It reminds me of cozy evenings with family by the fireplace, talking about the hopes and expectations we have for the new year, even if the weather is frigid and damp and other circumstances are less than ideal. It is the aroma of expectation.
It seemed fitting that wood smoke welcomed me to Armenia for December's historic elections. In April, Armenia's Prime Minister Serzh Sargsyan, who had served as the country's president since 2008, resigned less than one week after taking office for what was perceived by many to be a de facto third term. His resignation was sparked by popular protests against Sargsyan and his Republican Party, led by opposition politician Nikol Pashinyan, who was later elected interim Prime Minister. On October 16, Prime Minister Pashinyan resigned abruptly, forcing the country's first-ever snap parliamentary elections on December 9.
I traveled to Armenia as part of the OSCE Parliamentary Assembly's election observation mission, organized in coordination with the OSCE Office of Democratic Institutions and Human Rights (ODIHR). The OSCE PA observation mission included approximately 50 short-term observers from 17 of the OSCE's 57 participating States.
Our pre-election briefings featured briefings by analysts, civil society, members of the media, and party representatives. Parties in Armenian politics have traditionally been associated with specific personalities, rather than domestic or foreign policy. However, according to interlocutors, this campaign was different. While the personalities of party leaders still play an important role, for the first time a nearly equal focus was placed on policies. This was highlighted by the country's first-ever televised parliamentary debate, which aired on Armenian public television on December 5 and generated widespread excitement throughout the country.
Previous elections in Armenia had been marked by allegations of election fraud, including abuse of state resources, pressure on civil servants, outright vote-buying, and undue influence of the ruling party on the media. Among the media representatives in particular, there was a tangible sense of hope, accompanied by an equal amount of trepidation, that things were changing for the better. In the past, several speakers noted, they had been explicitly directed ("we received phone calls") by the party in power as to which candidates should be covered, how, and for how long. Now, they noted, there were no phone calls. They were flying blind—coverage decisions were completely at their discretion, as long as they remained within the guidelines of the electoral code. That freedom was unprecedented, exhilarating, and a little bit intimidating.
* * *
On the morning of December 9, my election observation partner—a British parliamentarian—and I arrived before sunrise at our first polling station in Yerevan. In the city, streetlights turn off in the early hours of the morning, so we gingerly picked our way in near-blackness around potholes and through puddles to the front door of a local school.
Upon our arrival, we were welcomed by the head of the polling station, an enthusiastic and competent woman who proudly showed us where voting would take place: the large hallway/common area on the second floor of the building. Like most of the polling stations we would visit throughout the day, it was staffed predominantly by women, many in their mid-to-late twenties. Another thing it had in common with most of the precincts we visited: it was totally inaccessible to anyone in a wheelchair or who could not easily navigate stairs.
We remained at the first polling station to observe pre-election procedures as well as the first several voters. We then departed to observe 10 other polling stations, all of which were located in Armavir, the province directly to the west of the city.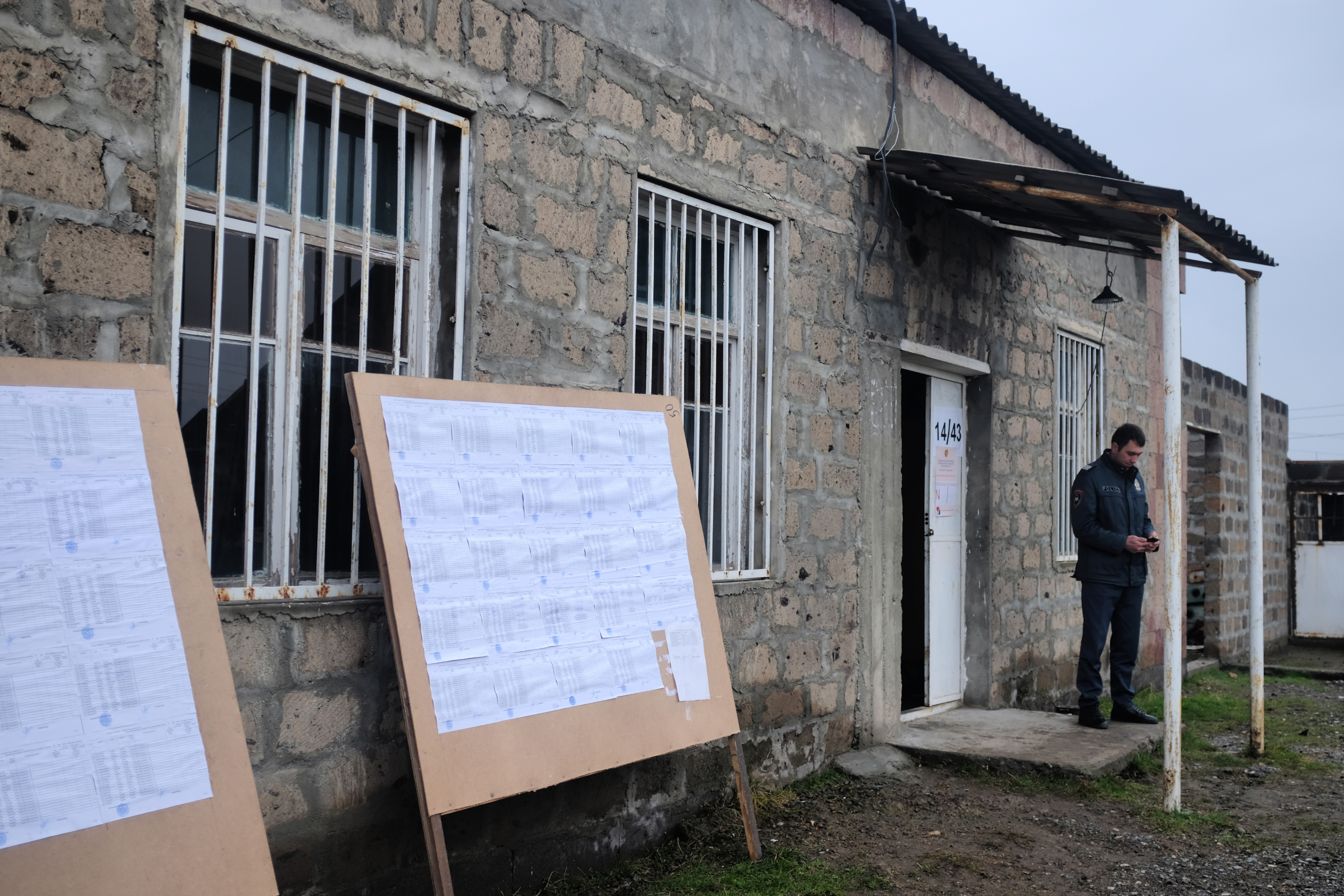 Outside a polling station in Armavir, where a full list of voters registered at that location was displayed publicly, in line with the electoral code.
The polling stations in Armavir ranged from substantially urban to relatively rural and were generally located in schools or "cultural centers"—desolate-looking structures built during the Soviet era, which are still used for civic events, including elections.
Throughout the day, we observed very few irregularities and an obvious commitment by poll leaders and workers to faithfully follow election procedures. In addition to our own observation, most of the polling stations we visited were being observed by representatives of each of the political parties, known as "proxies." We also encountered a few citizen observers.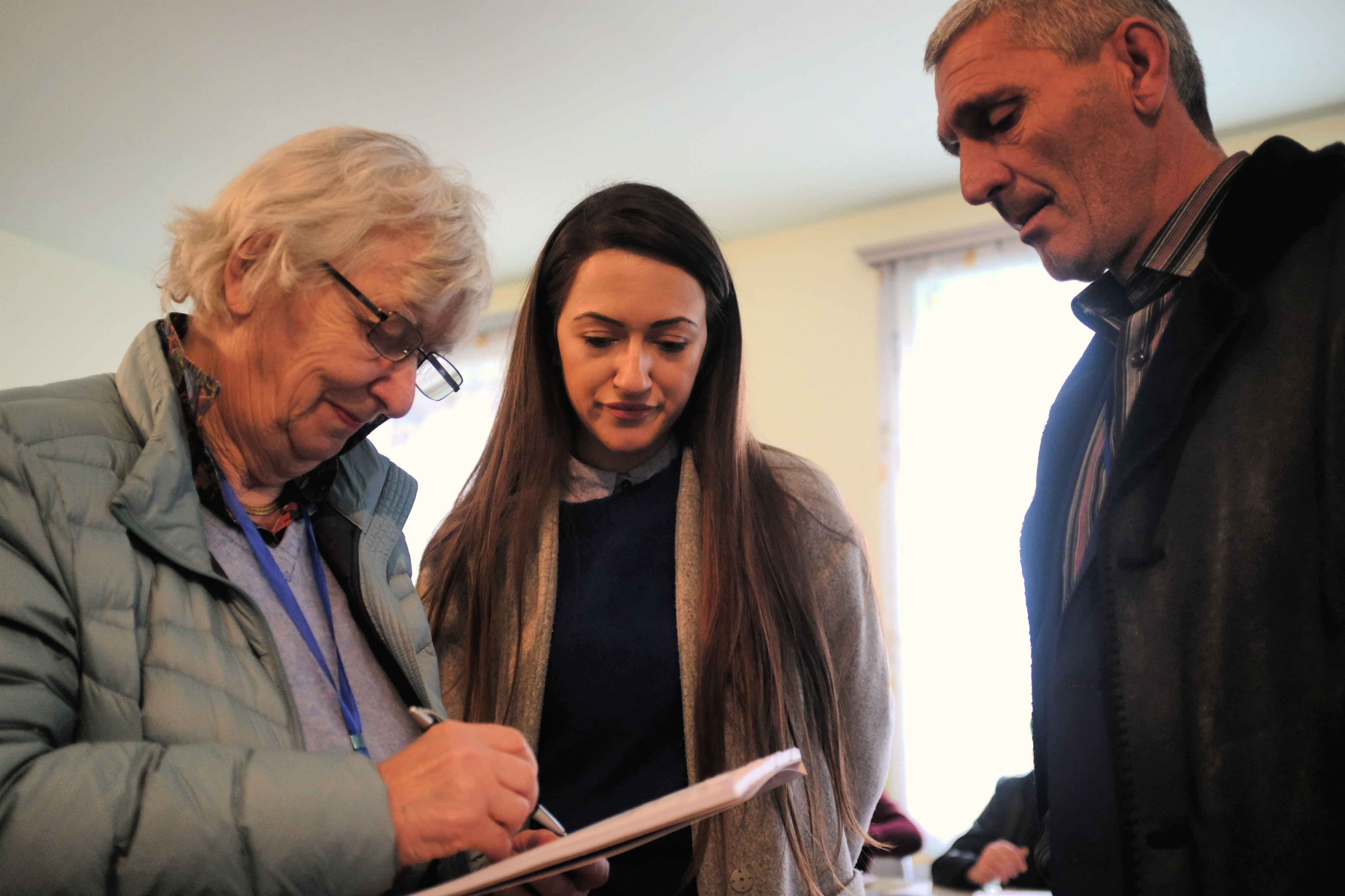 My observation partner and our interpreter speak with a poll worker.
One particularly charming ritual we observed in two of the polling stations we visited was the recognition by the poll workers and others in the polling station of first-time voters. When new voters cast their ballots, they were ushered to the center of the room by poll workers and awarded, to a round of applause, a commemorative pin. Almost without fail, the new voters blushed and hurried out of the polling station, embarrassed but unable to hide their smiles.
At the end of the day, we returned to the school in Yerevan to observe the polling station's closing and counting procedure. At some point during the very long day, the vibrant leader of the polling station had contracted a head cold and nearly lost her voice. (She offered us snacks—we offered her cough drops. Both offers were gratefully accepted.)
Despite her illness, she persevered, counting by hand the more than 900 ballots cast in her precinct among the 11 political parties and alliances competing in the election.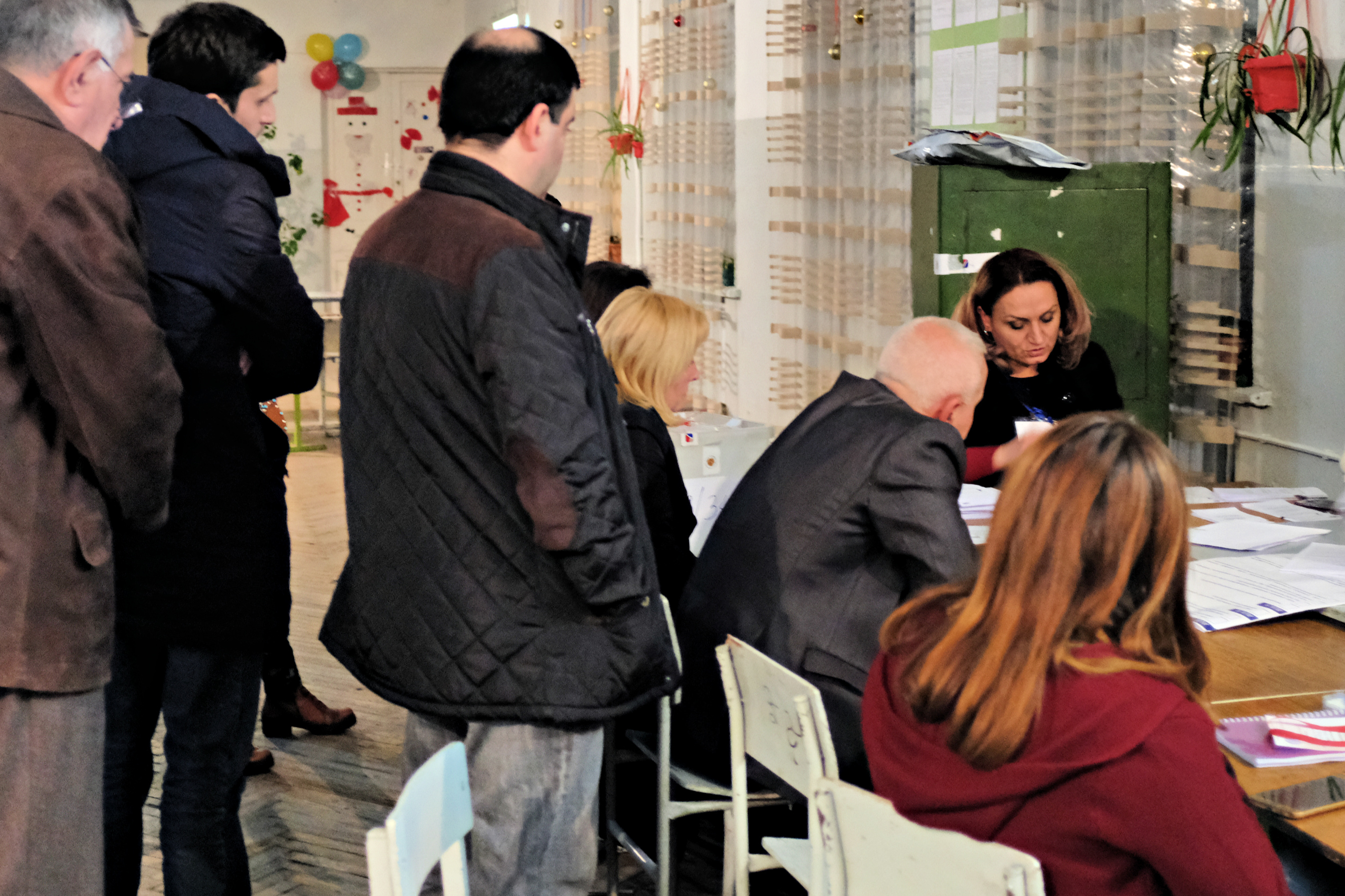 Observed closely by party proxies, the leader of a polling station in Yerevan sorts and counts ballots.
I returned to my hotel room—still faintly scented with wood smoke—after midnight, hoping that the high expectations of many of the Armenians we met had been fulfilled.
* * *
In a landslide victory, Pashinyan's MyStep alliance surged from just nine seats (7.8 percent of the vote) in 2017 to 88 seats (70.4 percent of the vote).
The joint preliminary statement by international election observers from the OSCE, the OSCE PA, the Parliamentary Assembly of the Council of Europe, and the European Parliament reflected my own impressions: that the December 9 election process respected citizens' fundamental freedoms and enjoyed broad public trust. Almost without exception, other international observers shared my sense that the polling stations were efficiently and professionally run. The overall campaign featured open political debate, including in the media, and the lack of vote-buying or similar examples of election fraud meant that the elections were genuinely competitive.
Election turnout hovered just under 50 percent—low by Armenian standards, but according to many election analysts, not entirely negative. The relatively low voter turnout (12 percent lower than in the previous election) could likely reflect a lack of the vote-buying and bribery that would encourage otherwise apathetic voters to turn out in droves.
Peter Osusky, leader of the short-term OSCE observer mission, noted, "Now that voters have delivered their message, it is up to the political leadership of Armenia to ensure that this momentum is maintained."