On October 7, 2018, Bosnia and Herzegovina will hold general elections for government offices at the state level, as well as for offices in each of the "entities" into which the country is politically divided (Bosnian Federation and Republika Srpska), and finally within each of the 10 cantons that make up the Federation. These elections mark a continuing transition to democratic norms, including respect for human rights and fundamental freedoms as well as adherence to the rule of law, detailed in OSCE commitments.
Unfortunately, the challenges faced by a country in its transition have been complicated in Bosnia by the lingering effects of the 1992-1995 conflict, where all sides—primarily but not exclusively Serb nationalist forces—targeted civilians in ethnic cleansing campaigns. These atrocities, which included the genocide at Srebrenica in July 1995, resulted in the displacement of about half the country's population, the deaths of approximately 100,000 individuals, and the torture or mass rape of thousands more. More than 20 years later, it would be a mistake to underestimate the social scars associated with such a traumatic experience in a country of 3 to 4 million people.
The most visible artifact of the conflict, however, is not those scars but the political system in which the upcoming elections will be held. Peace was restored by a combination of outside intervention and concessions at the negotiating table; the resulting constitutional arrangement contained in Annex IV of the Dayton Peace Agreement remains in place today.
This arrangement includes allowing only those declaring their affiliation with one of the three main ethnic groups or constituent peoples—Bosniaks, Serbs, and Croats—to stand for election to a seat on the state-level presidency or in the House of Peoples of the country's parliament. Even then, citizens are only eligible if they also live in the right place; Bosniaks and Croats must also reside in the Bosnian Federation and Serbs must reside in Republika Srpska.
In 2009, the European Court of Human Rights ruled in favor of two Bosnian citizens, Dervo Sejdic and Jacob Finci, who were ineligible to run as presidential candidates because they do not affiliate with one of the three recognized groups; they are Romani and Jewish respectively. In 2016, Ilijaz Pilav won a similar case at the court when he was denied the chance to run because he is a Bosniak who lives in Republika Srpska. Two years earlier, Azra Zornic also won her ECHR case against Bosnia after she was declared ineligible for not declaring her ethnic affiliation.
Despite these court victories in Strasbourg, discrimination in Bosnia and Herzegovina continues. Between Bosnian citizens who do not belong to any of the three constituent peoples, Bosniaks and Croats residing in in Republika Srpska, Serbs residing in the Bosnian Federation, and an unknown number of those like Zornic who do not wish to identify on the basis of ethnicity, more than 300,000 Bosnian citizens are denied the right to stand for election to the Bosnian Presidency or seek a seat in the state-level House of Peoples.
The October 2018 elections are further complicated by the 2017 decision of Bosnia's constitutional court that the mechanism for establishing the Bosnian Federation's own House of Peoples was unconstitutional and by the annulment of relevant portions of the electoral code. In this case, the claim was made that existing practices had disadvantaged ethnic Croat voters. In early 2018, political talks under international auspices failed to produce a solution, largely due to a desire by those seeking to maintain political power to further entrench ethnicity as a defining factor into the system. The result could be a political crisis after the elections if the Bosnian Federation parliament cannot convene, leading to a similar situation at the state level.
In July 2018, a congressional delegation organized by the U.S. Helsinki Commission visited Bosnia and Herzegovina. Nine Members of Congress met with Sejdic, Finci, and Pilav, as well as civil society representatives and others, to learn more about the ethnic barriers to effective exercise by citizens of their human rights and fundamental freedoms.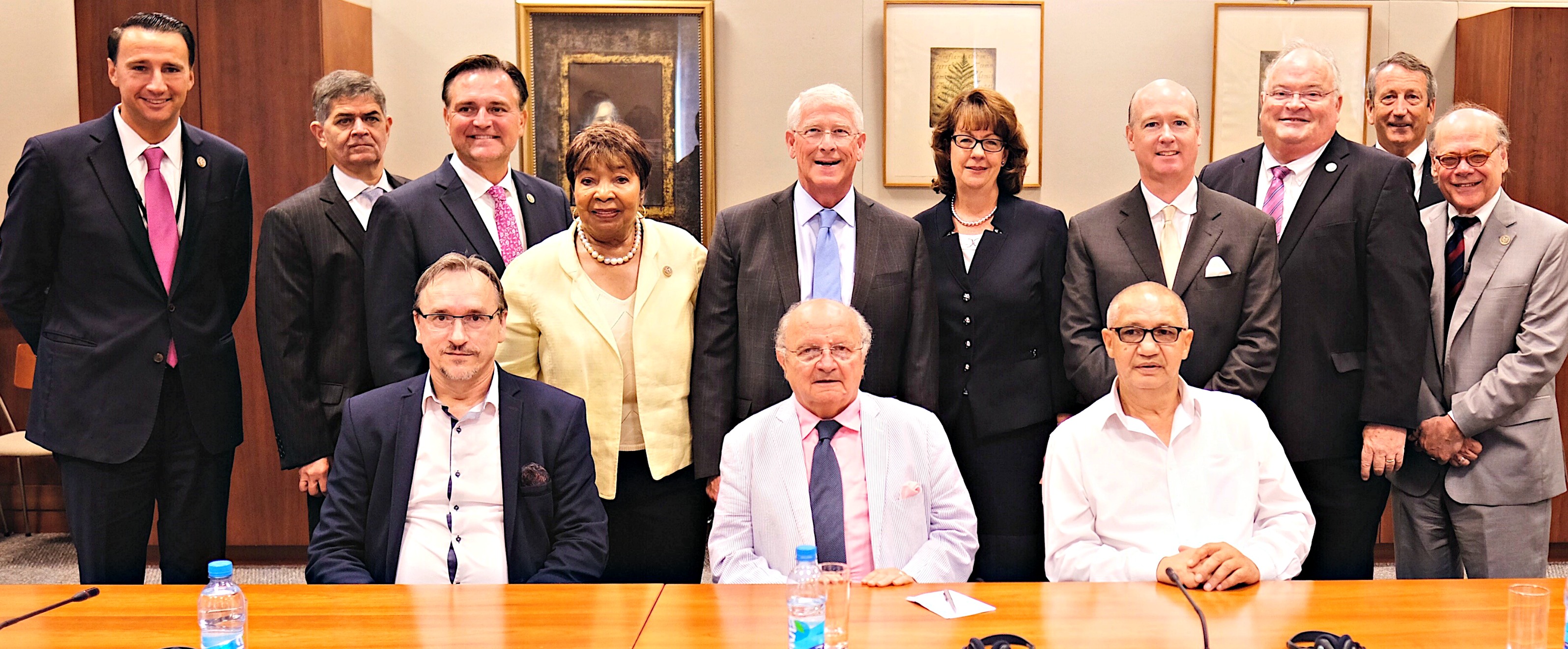 The nine-member congressional delegation and U.S. Ambassador Maureen Cormack with Dr. Ilijaz Pilav, Ambassador Jacob Finci, and Mr. Dervo Sejdic in Sarajevo.
At the end of the visit, the head of the delegation and Helsinki Commission Chairman Sen. Roger Wicker (MS) concluded, "The discriminatory ethnic criteria that prevent some Roma, Jewish, Serbs in the Federation, Croats and Bosniaks in the Republika Srpska, and other citizens who do not self-identify with a group from seeking certain public offices is unacceptable and can easily be addressed… We hope for progress on electoral reform, in line with accepted norms for free and fair elections, so that election results can be implemented and a government formed. We are dismayed at the lack of political diversity within some of the main ethnic groups in this country, and take issue with those who argue they are entitled to a monopoly in representing those groups."
The congressional delegation expressed frustration over the lack of progress with the current state presidency. It also asked the OSCE Parliamentary Assembly, meeting in Berlin later that month, to maintain a strong focus on Bosnia and Herzegovina and to send a robust election observation mission to the country in October.
Of course, Bosnia's woes go beyond this issue. Republika Srpska officials continue to undermine the country's state-level institutions to justify an agenda that is not only openly separatist but, as evidenced by the recent revocation of a 2004 report acknowledging he massacre at Srebrenica, also highly nationalistic. One political party seeks define ethnic privileges that would essentially allow it alone to represent Bosnia's Croat population. Bosniak political leaders, while perhaps more flexible regarding non-ethnic political options, nevertheless seem content representing the country's primary victims from the conflict period as they remain in power and engage, as do the others, in widespread corruption. Malign outside influences, including Russia, thrive on the Bosnia's political impasse.
Getting elections right—at this most fundamental level in addition to their overall conduct—is critical and perhaps the best place to start the larger reform effort Bosnia needs. Unless this happens, the country, which is estimated to have the world's highest youth unemployment rate at well over 50 percent, will see its most talented citizens future vote with their feet, and exercise the right they retain as individuals, regardless of ethnicity, to leave the country behind for a future elsewhere.