By Gabriel Cortez,
Charles B. Rangel Fellow & Returned Peace Corps Volunteer, Ukraine 2016-2019
Getting a high five has never felt as satisfying as it did in rural Ukraine. Even after three years serving as a Peace Corps Volunteer I cannot help but smile every time I remember one of my students extending their hand out for a "dye pyat." I grew up in a large Mexican-American family in small-town California. Removed from the centers of international politics, the only diplomacy I knew was my brothers and sisters deciding who could use the family TV and when. Even as a kid I knew I wanted to be a part of something greater, to explore not only the United States but the other countries around the world, the ones they talked about in the news. The Peace Corps gave me and thousands of others that opportunity.
For 58 years, the Peace Corps has sent Americans young and old to live and work in communities worldwide. Over 235,000 volunteers have served in 141 countries, ranging from Mongolia and Albania to Morocco and China. Volunteers commit to 27 months of service in the country they serve, working in several sectors including education, health, agriculture, community development, and youth development. As of July 2019, there are around 7,000 Peace Corps volunteers serving in 62 countries. Montenegro, an OSCE participating State, is the newest addition to the Peace Corps family, with volunteers slated to launch the program in 2020.
The promotion of democracy is one of the central tenets of the Organization on Security and Cooperation in Europe (OSCE) and the Helsinki Final Accords. To that end, the Helsinki Commission has monitored aspects of the transition to democracy throughout Europe, including challenges to the rule of law, free and fair elections, and the impact of corruption. Peace Corps volunteers work concurrently in this field to demonstrate the strength democracy brings and help promote civic engagement in their sites.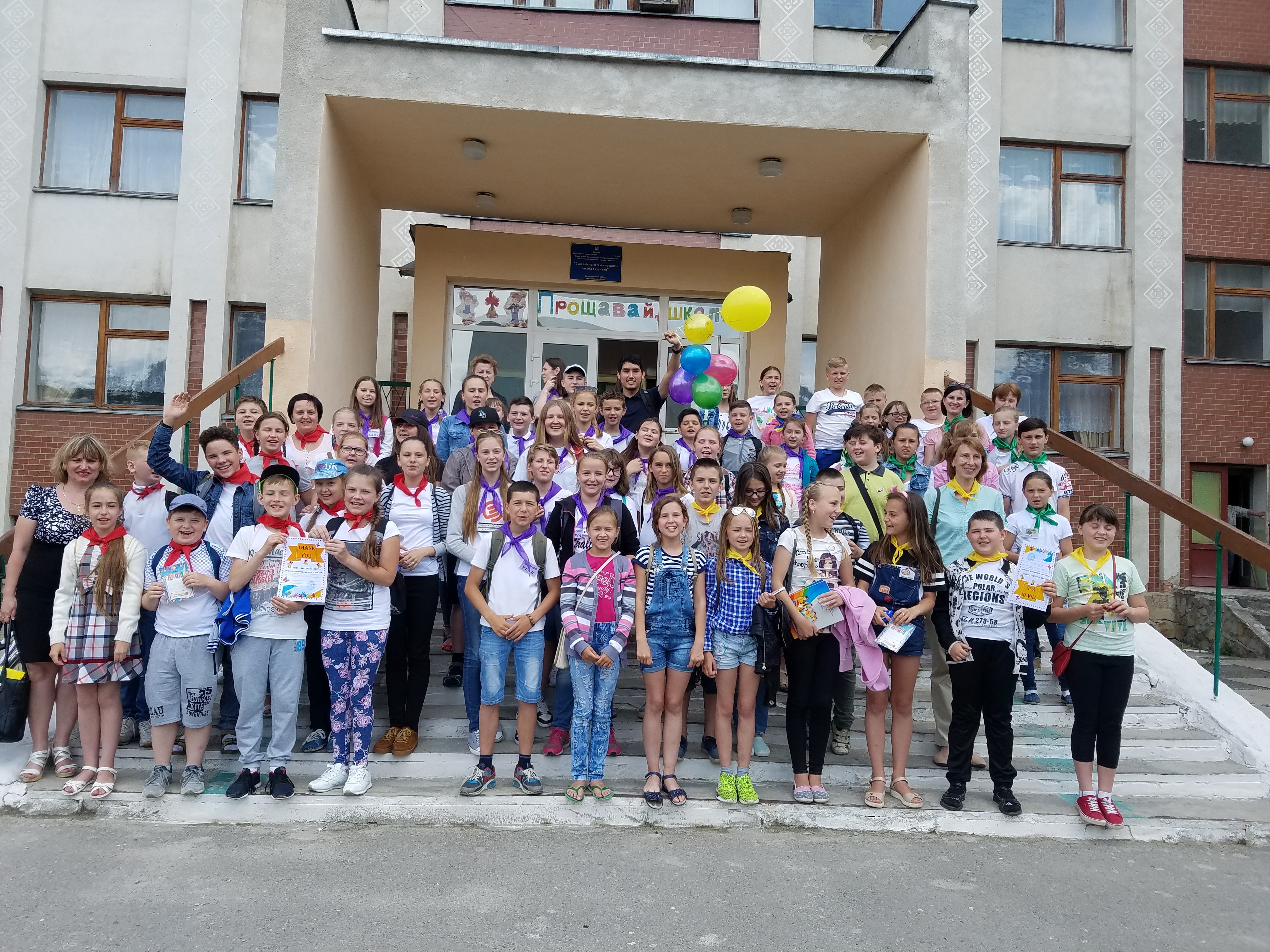 Schoolchildren from my site participating in an English Language Summer Camp in Krasyliv, Ukraine.
When President John F. Kennedy created the Peace Corps in 1961, the program was designed for large groups of Americans to live abroad and promote the American way of life, including the best aspects of democracy. That mission continues today in the OSCE region, with volunteers serving in Ukraine and eight other OSCE countries, including Armenia, Georgia, Kyrgyzstan, and Mongolia.
My Peace Corps service began in September 2016 but was inspired years prior. In 2014, when the Maidan Revolution occurred, I watched it on TV with amazement, drawn by the images of Ukrainians from all walks of life marching on their capital to advocate for a better future. Already eager to work with the Peace Corps, I knew from that moment that Ukraine was the country I wanted to serve in as a volunteer.
Peace Corps Ukraine, which began in 1992, is the largest Peace Corps program operating anywhere in the world. Nearly 300 volunteers have served in the education, youth development, and community development sectors, as well as the President's Emergency Plan for Emergency AIDS Relief (PEPFAR) programs. When volunteers arrive, they dedicate the first three months to training, learning the Ukrainian and/or Russian languages, discovering local culture, and exploring Ukraine's history. After training, volunteers move to their permanent sites where they live and work for two years, tasked with the three goals of the Peace Corps.
The first goal of Peace Corps is "to help the people of interested countries in meeting their need for trained men and women." For Ukraine, this translates to projects focusing on English education, combatting corruption, and working with youth to develop healthy lifestyles. Since gaining independence in 1991, Ukraine has made progress in reorienting itself to the West; a strong partnership with the U.S. has been crucial in this journey. Peace Corps volunteers contribute to this mission every day. Whether it is through teaching English at schools, organizing a summer camp on gender rights, or helping a local NGO secure a grant to fund health projects, Peace Corps volunteers have a tremendous impact on the communities they live in. Volunteers ultimately help promote entrepreneurship and civic engagement, critical facets of the Helsinki Accords.
The second goal, and perhaps the most important in Peace Corps Ukraine, is "to help promote a better understanding of Americans on the part of the peoples served." As a former Soviet country, Ukrainians were disconnected from the world for over 70 years, learning about the United States through the limited movies, newspapers, and clothes smuggled past the Iron Curtain. Today, Peace Corps volunteers act as a bridge between both countries, promoting a positive image of the U.S. and bringing back a better understanding of Ukrainian culture. In communities like the one I served in, a small town with no other Americans, a volunteer's presence is truly felt. I led discussions on race and gender, hosted events highlighting different American groups, introduced my students to American holidays, and much more. Acting as a cultural ambassador is an honor for any Peace Corps volunteer, and a role the program is founded upon.
The third and final goal of the Peace Corps is "to help promote a better understanding of other peoples on the part of Americans." Volunteers return from service eager to share their experiences with their friends and families. This may include organizing a speech at a local school, attending a Ukrainian-American event, or even joining an organization that focuses on Ukrainian issues. This allows returned Peace Corps volunteers the chance to talk to Americans about their experience in the country: their successes, challenges, memories, and more. In turn, Americans learn about Ukraine and other countries they have never had experience with or knowledge of.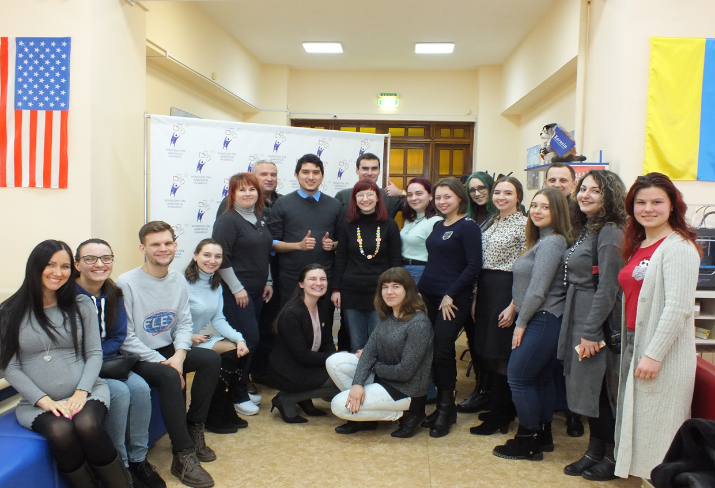 Teacher training at the Window on America in Kharkiv, Ukraine
The Peace Corps is a unique agency that continues to change lives all over the world and receive bipartisan support in Congress. On the 49th anniversary of the Peace Corps, Co-Chairman of the Helsinki Commission Senator Roger Wicker (MS) noted, "The Peace Corps invests time and talent in other countries, but it pays dividends back here in the United States as well."
Helsinki Commissioner Ranking Member Sen. Ben Cardin (MD) reaffirmed his support of the Peace Corps on its 55th anniversary, stating, "Peace Corps volunteers represent the best qualities of American foreign policy. They come from all walks of life and from across the country [and] are saving lives. I could not be more proud of these Americans." The introduction of the bipartisan H.R.3456 – Peace Corps Reauthorization Act of 2019 demonstrates Congress' commitment to the Peace Corps. Helsinki Commissioners Rep. Steve Cohen (TN-09), Sheila Jackson Lee (TX-18), and Gwen Moore (WI-4) are co-sponsors of the bill, which would increase support for current and returned Peace Corps volunteers.
Peace Corps volunteers work every day to develop the foundational tenets outlined by the Helsinki Accords. From promoting tolerance and non-discrimination, to developing education programs, to confronting corruption, Peace Corps volunteers exhibit the strength of the partnerships between OSCE participating States and work to improve the lives of others.
True progress is rooted in the sustainable and long-term projects of Peace Corps volunteers and their communities. In Ukraine, I saw firsthand the impact the Peace Corps can have in developing communities: a summer leadership camp for middle school students, a newly built community center with music and dance classes in a small village, and an accounting transparency workshop that reduced corruption in several city management offices. Substantive changes are happening every day in villages, towns, and cities across the country and throughout Peace Corps-partnered OSCE countries. Peace Corps volunteers exemplify the foundations of the Helsinki Accords, promote democracy abroad, and help bolster OSCE participating States and other nations like Ukraine build a bright, hopeful, and prosperous future, one high-five at a time.